Attorneys David Sherman And James Williams Co-Chair Crimestoppers Luncheon

Eyewitness Morning News at 8AM – March 7, 2023 Crimestoppers WWL 8 AM
David Sherman and James Williams are co-chairing the Crimestoppers 38th Annual Awards Luncheon set for March 14th. The Crimestoppers luncheon allows public safety and criminal justice individuals to be recognized for their commitment and service to New Orleans citizens. It also provides an opportunity to network with city leaders.
Crimestoppers, Inc. is a 501 (c)(3) non-profit serving a nine-parish region of Southeastern Louisiana. Its mission is to foster a safe community and to prevent and solve crimes by providing educational crime prevention programs for youth and adults; assisting law enforcement agencies, victims of crime, and their families; and identifying and arresting criminal suspects through anonymous tips by citizens.
Sherman and Williams have dedicated themselves to serving the community through charitable groups, educational institutions, industry councils, economic development, and civic organizations.
Please Help Support CrimeStoppers GNO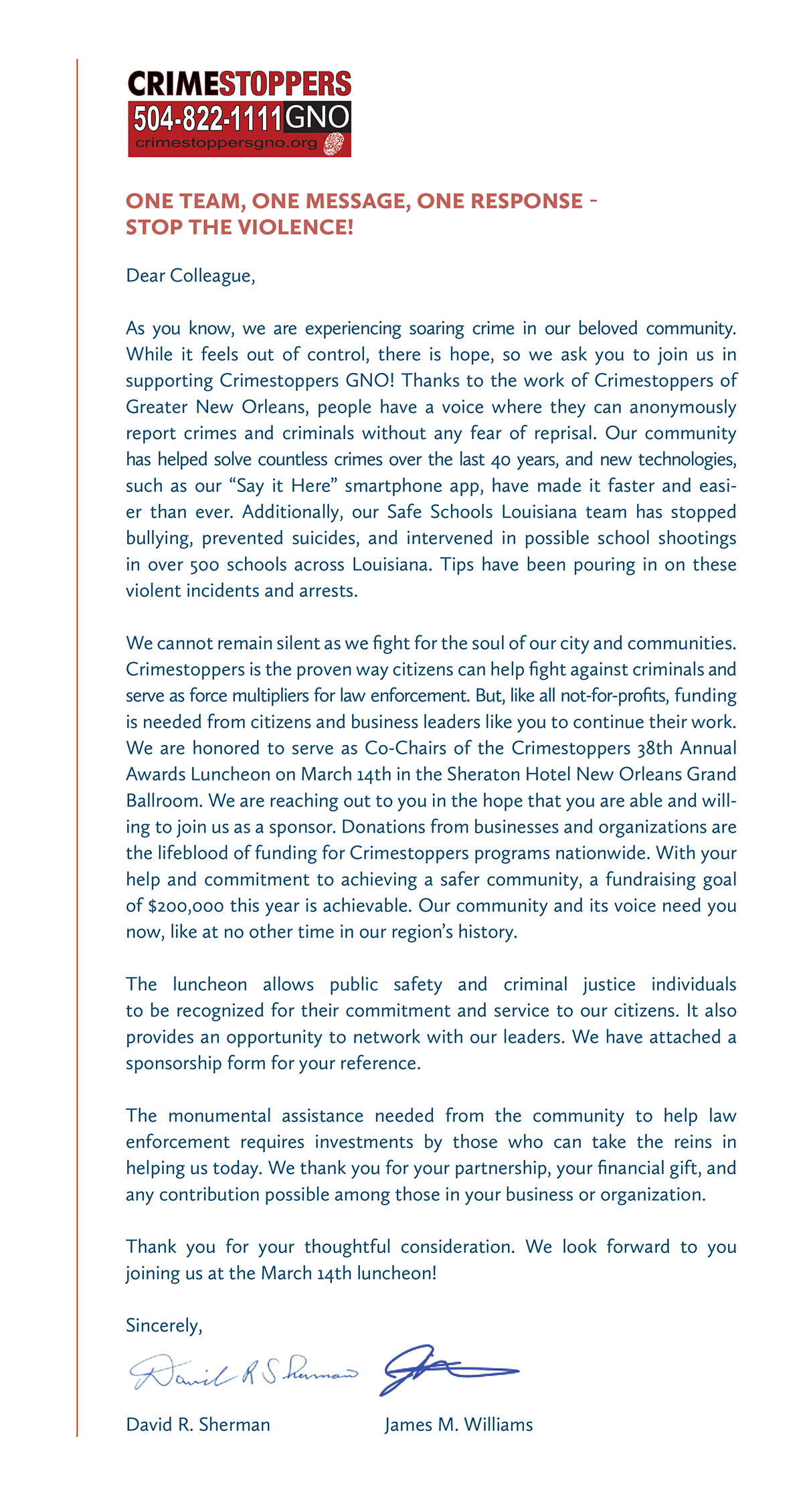 Chehardy Sherman Williams, founded in the Greater New Orleans area, has been a leading law firm serving Southeastern Louisiana since 1989.
We put decades of legal practice to work for our clients and provide more personalized services to achieve their desired results. From businesses and individuals across more than ten practice areas, we can provide more experience and more representation.
We can help resolve a wide range of complex legal issues in all courts, including parish, state, and federal branches. Our attorneys have represented cases across Louisiana and the country. Armed with a profound and comprehensive knowledge of the legal system, we are devoted to protecting your legal rights while upholding the highest standards of the justice system.
We are consistently recognized as leaders in the industry, earning local and national accolades for results, service, and commitment.