How legal expertise helped save an important community Hospital.
As a longtime CEO of Hospitals, Gerald Parton was used to complex deals and intense negotiations. But when he came aboard as CEO of East Jefferson General Hospital, he was in for quite a ride.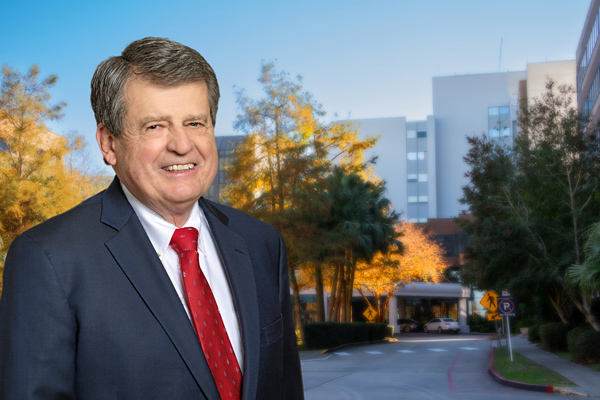 The hospital he joined was in dire financial straits, operating at a loss and burning through more than $1.5 million in cash every month, an untenable situation. When the former CEO had to step aside for health reasons, David Sherman, who had been General Counsel of the hospital since 2004, reached out to Parton and asked him to consider the job. The two had worked together on and off for years on deals involving physicians and hospitals. Sherman is a founding partner of Chehardy, Sherman, Williams, Recile & Hayes with four decades of experience in healthcare law. The answer was yes. Sherman then recommended Parton to the board, who ultimately hired him.
"Dave and I worked together to put out an RFP for a buyer to lease the hospital and do much needed capital improvements," he recalled. Two potential suitors stepped forward, Hospital Corporation of America (HCA) out of Nashville and LCMC Health here in New Orleans.
It was a difficult decision but the hospital's board ultimately went with HCA. "Because Dave had been through this kind of a deal many times before, and was familiar with both sides of the negotiation, he was able to cut to the chase and save us time and money, including legal fees," said Parton. The negotiation was a long process involving many layers of HCA's Corporate structure. The final documents were almost complete in August 2018.
However, things took an unexpected turn. After more than a year of negotiations, the call came in from HCA – the deal was off. "We were blindsided," said Parton.
Working as a team, Parton, board members and Sherman went back to LCMC to bring them back to the table. "It wasn't an easy road, but Dave's ability to negotiate and regain trust was exceptional. It was a game changer," he said. "He was truly a partner with us at the table."
Yet another wrinkle appeared, just as the new negotiations with LCMC were underway. "The hospital's bond holders called the hospital's bonds," said Parton. "Dave was extremely instrumental in working out a forbearance agreement over the next few months," he recalled. "That really saved this deal. Without it, the hospital would have been closed and over 3000 employees would have lost their jobs. The sale was contingent on the forbearance agreement and the sale was a requirement of the forbearance agreement."
Because East Jefferson General Hospital is a designated service district Hospital in Louisiana, the state requires the community to vote on a sale of this kind. After Parton, the hospital's board, and Sherman engaged in community dialogues with civic and business organizations, the ballot was put to a vote in August 2020. It passed with a resounding 95 percent of locals voting yes on keeping the hospital open with LCMC as owners.
Under the terms of the agreement, LCMC Health paid $90 million for East Jefferson General Hospital and its operations and promised to invest $100 million over the next five years. The acquisition allowed the hospital to pay off its current bond debt and satisfy all other outstanding financial obligations including fully funding the employee Retirement Program. The deal also gave the hospital's nearly 3,000 employees and 100 doctors and their staff job security, an especially important outcome during the middle of a pandemic.
"The hospital means everything to the community," said Sherman. "It means that neighbors can keep their existing doctors, and that they can access quality health care in their backyard, instead of having to go across town. At the end of the day, that's what this was about."
Gerald Parton decided to retire on that high note in 2021. "It was a real roller coaster," he said. "But Dave's ability to finesse, to negotiate, and to understand the complexity of such an intricate deal, made all the difference. In the end, it was the best of outcomes."