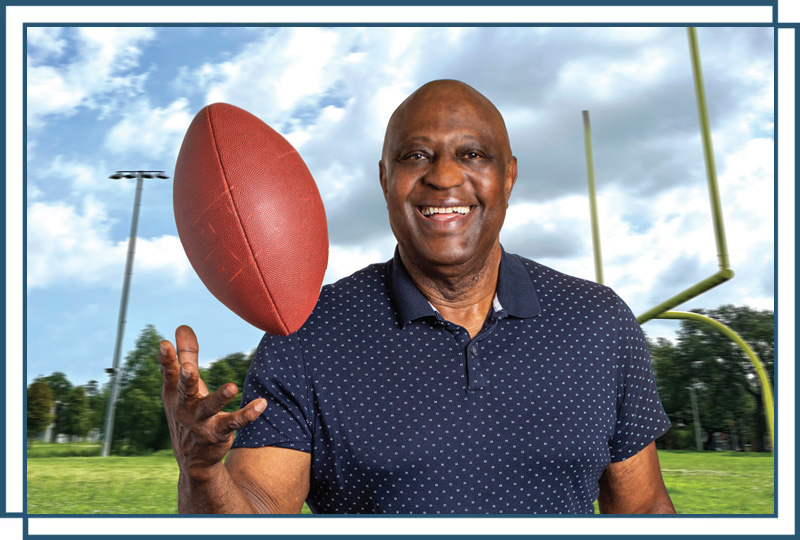 The Trial Team: Lavigne Verdict
The Right Trial Lawyer Meant the Difference Between $300,000 and $3 Million.
The difference between $300,000 and $3 Million isn't just measured in dollars and cents. For Thomas Lavigne, that difference translated into back wages for the job he lost because of injuries suffered in a serious car accident. It meant he could come home to New Orleans after taking a lower-paying job seven hours away in Arkansas. And it meant that his family wasn't crushed under mounting medical bills related to the accident, which would likely include a high dollar back surgery in the future. In short, that difference gave this former college football player the only chance he had at living day to day without struggle, emotional distress, and debt.

For his attorney James Williams, a high stakes trial lawyer and leader of The Trial Team at Chehardy, Sherman, Williams, Recile and Hayes, that difference is what sets Williams apart as a closer, a highly sought-after rescue counsel who is hired to add firepower in existing high-stakes and problematic litigation. How he took over after settlement failed, won over the jury, and got ten times more than the prior lawyer offered to settle the case for, would seem like a fish story if the court record didn't back it all up.

A life-changing car accident Lavigne's problems started in 2012 when he was stopped in traffic on Magazine Street in New Orleans. A car slammed into him, totaling his car and leaving him with serious back injuries, chronic pain, and all of the resulting emotional and psychological toll that entails.

Lavigne is a gentle giant, an easy-going man with a mild manner, quick to smile. He played football at Grambling State University and then came home to coach local high school players. Beyond coaching, he also was an administrator at the school, always moving around, a visible and imposing presence to help keep the kids in line.

After his injury, everything changed. He couldn't perform his job at 100 percent and had to leave. With bills mounting, he took a job for less pay at a school in Arkansas, leaving his home and wife while trying to make ends meet. "I knew I had to do something," he recalls. "I needed legal help."
He listened to us – then fought like an assassin.
Lavigne hired attorney Bobby Jones, a talented sole practitioner who quickly realized Lavigne had an important case. Jones wanted to team up with another law firm to do it justice and initially brought on Clifford Cardone of Cardone Law Firm, known for his TV and billboard ads courting personal injury clients. The public record shows that Cardone filed a pleading in the court record offering to settle Lavigne's case with the insurance company for only $300,000.

Fortunately for Mr. Lavigne, the insurance company rejected the settlement, giving Jones an opportunity to do what he should have done from the beginning. He brought in the big guns, James Williams and his Trial Team, to help with the case.

With only 30 days to do the necessary painstaking research and build a detailed litigation strategy, Williams was on the case, eating, breathing, and sleeping the evidence until Lavigne had his two weeks long trial. Bringing to the table his innate ability to connect honestly with a jury, Williams created a narrative that was indisputable. Lavigne was beyond ecstatic when the jury handed down the $3 million judgment.

"My family and I are forever grateful to Mr. Williams, who didn't sell us short and fought our case like an assassin," said Lavigne. "He listened to us and told the jury exactly how my life has been since the accident. Thanks to James Williams, I can now be with my family, take care of my health and have a future."